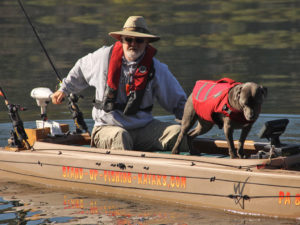 When it comes to sporting, hunting, and the great outdoors, we want to make sure you are fully prepared. That's why we offer more than just product reviews.
We offer comprehensive buyers' guides that will narrow down our favorite outdoor products and also show you what to look for to help you make an informed buying decision.
That's right! It's time for that relaxing getaway. Picture this: a crisp fall breeze in the air as you paddle through a gorgeous, serene lake, watching the beautiful red and orange leaves slowly drift from the uppermost branches down to the forest floor. You cast your line into the water, and relax, cold drinks in the cooler and not a care in the world.
Maybe you want a little more adventure, and you are paddling down a babbling stream, the sound of rushing water filling your ears as you paddle furiously, navigating each eddy and surge until you find a great spot to hunker down and catch some fish to take back to camp and cook over the fire.
If that still isn't quite enough rush, consider running down the sandy beach, kayak in hand, until your body breaks against the crashing waves. Fight the current as you go further out to sea, past the swimming children and surfers. This is where you find the fish you have been looking for. This is your ultimate excitement.

No matter which scenario excites you and gets your blood pumping and spirits high, we've got you covered. In this guide, we will tell you all about the 10 best kayaks for fishing that made our list, including the top-rated fishing kayaks and the best fishing kayak for the money. You will learn some of the advantages and drawbacks of each model, as well as a rundown of their features.
After that, we will talk more in-depth about the different types of fishing kayaks. What makes the best ocean fishing kayak? What is a sit-in or a sit-on-top fishing kayak? Which features actually matter and how will they affect your fishing experience? Learn the answers to those questions and more in our comprehensive buyer's guide, immediately following our review.
The Best Fishing Kayaks – Overview
When we started testing kayaks, we had several things in mind. We wanted a smooth and comfortable ride. We were concerned with safety. We wanted most of these to be within the same average budget, with a couple more basic models and a couple of fancy splurges in the mix. We looked into what makes great features, how the kayaks performed in different locations and weather situations, and what factors truly make the best kayak for fishing.
A lot of the features of these 10 kayaks will be very similar. This is because we have determined some things that are mandatory for a safe and smooth kayak ride and an enjoyable experience.
If a kayak lacked these basic safety features, we dropped it from our list. This is why we chose 10 products rather than 1 or 100; we wanted all of these to be the best fishing kayaks on the market, but we know that each buyer will be fishing somewhere different and will have different priorities when it comes to what can be sacrificed and what is necessary.
Allowing for a top 10 ensures that all kayaks are high quality, but there is some variety to suit all of your needs.
Best Fishing Kayak Reviews of 2022
Bonafide SS127
Perception Pescador Pro Sit On Top Kayak
Lifetime 10 Foot 2 Person Tandem Fishing Kayak
Vibe Yellowfin 100
Feelfree Lure 11.5 Kayak
Elkton Outdoors Sit On Top Kayak With Rudder System
Hobie Mirage Pro Angler 14
Ocean Kayak Prowler 13
Sun Dolphin Excursion 10 Sit-In Kayak
Intex Challenger Kayak
Let's take a look at some of the top-rated fishing kayaks and break down their features for you. What makes them great? What are they missing? All you need to know is included in this comprehensive review.
Bonafide SS127 – Best Overall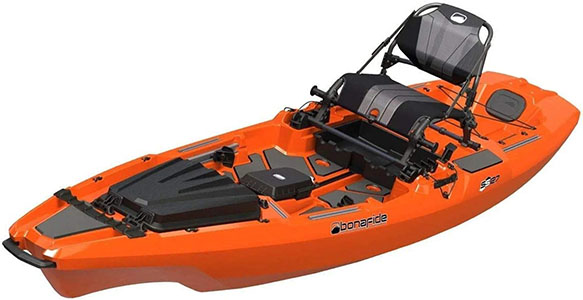 → View On Amazon ←
Bonafide Kayaks is a newer brand, debuting in late 2016, but that does not mean they are less experienced. They put together some of the most experienced and talented people in the industry and set lofty goals. They began with a challenge to build a kayak prototype that seemed impossible to everyone in the industry.
After successfully meeting the challenge, they began to assemble kayaks with a commitment to quality, thoughtful design, and customer service. They put the end-user at the forefront when creating new products and look for out-of-the-box ways to bring new concepts and designs that meet every single need.
The most notable feature of this kayak is the seating system. It's fantastic. It's a high-rise seat with an ultra-high seating position on the water. This allows you to see any obstacles in the way before reaching them. This seat allows you to keep your knees bent and reduces pressure on your lower back. It includes a seat rack with a frame that can be folded to allow for a conversion to a classic, lower position as well. This allows you to cover more distance and dig your paddle deeper into the water.
This kayak also has tons of features. We love that there's a storage drawer under the seat for easy access to little gadgets. There's also a dry pod to keep critical materials dry. It's got a through-hull scupper transducer and rod tip holders. It includes Gear Tracks, traction pads, and Doubleheader hinges on the bow hatch.
This kayak also has tons of features. We love that there's a storage drawer under the seat for easy access to little gadgets. There's also a dry pod to keep critical materials dry. It's got a through-hull scupper transducer and rod tip holders. It includes Gear Tracks, traction pads, and Doubleheader hinges on the bow hatch.

Pros
Ultra-high seating system
Under-seat storage
Loaded with features
Cons
Less budget friendly
75 pounds – quite heavy
This boat has surprisingly great tracking against side waves despite the wider frame. This allows for a great balance between stability and maneuverability with turns. The boat itself is stable enough to let you stand on the gunwales to gain a better vantage while casting your line.
---
Perception Pescador Pro Sit On Top Kayak – Best For Beginners

→ View On Amazon ←
Perception has been around for quite some time. They specialize in kayaks, so we had to try this one out. We love this company because their focus is on education. They hand assemble and mold every single kayak themselves and include personal touches that make for a better experience.
Perception likes to design products that are geared towards beginners but still enjoyable for experts. Their kayaks are comfortable, safe, and easy to paddle. We really wanted to include one of these on our list because everyone is at a different level, and there's no reason that beginners shouldn't get to enjoy kayak fishing.
This model has a fast and stable design, which makes it ideal for any conditions. The removable and adjustable camp chair can be easily stored and provide some extra comfort while out in the water.
The design also features attachment and storage zones that have been secured to keep all of your equipment within easy reach, so beginners won't have to be afraid of rolling over when grabbing drinks or bait.
Pros
Beginner friendly
Accessible storage
Adjustable seating and footrests
Cons
Less budget-friendly Rear hatch storage is hard to access
The recommended paddle is the Pescador paddle. You can purchase this with your kayak. While this one does not come with the paddle, it does come with some other great stuff. There are front and rear storage areas that are spacious and open for gear and coolers. The kayak includes two fishing rod holders so you can store them while paddling. It is recommended for use in lakes, ponds, and calm waters.
---
Lifetime 10 Foot 2 Person Tandem Fishing Kayak – The Tandem Kayak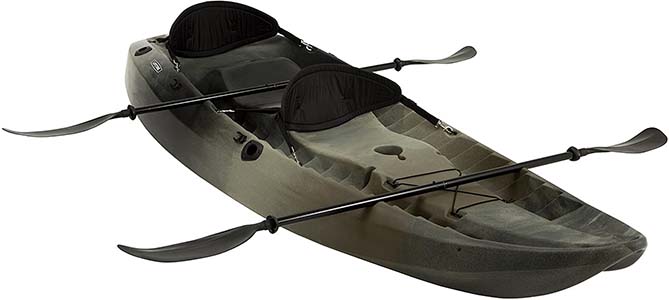 → View On Amazon ←
Lifetime is a family-owned company that started in Utah. A dad wanted to build a better basketball hoop than anything on the market.
This product showed him that he had a passion for innovation, and he quickly began other projects. In 1986, he opened a company called Lifetime Products. He named it this because his goal was that all of his products would be durable and lasting.
From one dad's garage, they expanded to a globally trusted brand in terms of safety and innovation in the market. They continually strive to find new ways to elevate standard products. Their goal is to elevate existing products to a higher standard of quality, durability, and strength and make them easier to use and manufacture. They offer world-class customer service and believe that success comes from working as a group and investing in people.
It is no surprise that his kayak made our list. This kayak can seat up to three people, two adults, and a child, and carry up to 500 pounds of weight. The wide hull with a narrow V creates greater stability and makes it easier to maneuver.
It includes two double-sided paddles with clips and padded backrests. This one is a great option for fishing because it includes three fishing pole holders and a six-inch storage hatch. The short length and wider build on this model make it great for shorter cruises and fishing, but you probably won't want to take it for a race, and it may not do as well with side currents and windy conditions.
Pros
Carries up to three people
Increased stability
Multiple footrests
Cons
Can't cast straightforward because of closed seating
Heavier model
This kayak can also be easily accessorized. The company offers options to include rudders or purchase motor mounts with a 55-pound thrust motor. Tip: We recommend taking turns paddling and casting to help stay anchored and avoid drifting.
---
Vibe Yellowfin 100 – Lightweight Maneuverability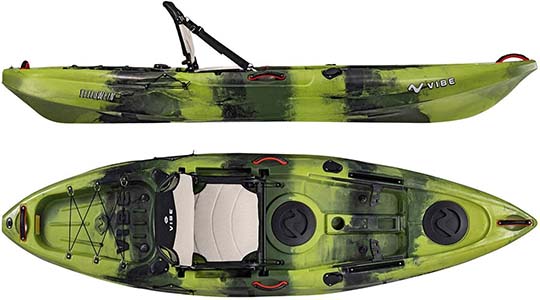 → View On Amazon ←
The Vibe Kayak company is focused on excellent customer service. They believe that kayaking is a lifestyle and are avid outdoorsmen. They strive to give all skill levels the chance to experience the outdoors and built their brand around a passion for fishing and the water. They aim to balance features and affordability.
We tried out one of their kayaks from the 2019 line, the Yellowfin 100. This kayak is loaded with features. While it lacks a rudder, you can purchase one if you wish. There's also no skid plate, but fishers rarely notice that. It can carry up to 375 pounds and only weighs 57 pounds.
Their Vibe Hero seat is extremely comfortable. The boat's got a durable build and the lightweight, narrow design makes it very maneuverable and mobile.
There are four flush-mounted fishing rod holders included. It also includes a Vibe Journey paddle. This has four Vibe Phantom Grip carrying handles, adjustable foot braces, a mount for rectangular accessories like phones and GPS systems, two bungee paddle parks on the side, a quick access paddle rest, and even a built-in cup holder!
Pros
Lightweight "throw and go"
Tackle toss tray
Lots of storage capacity
Extremely comfortable seat
Cons
No skid plate
No rudder included
The durable polyethylene is a single-piece construction. It has eight-scupper holds to easily drain the water, with plugs included so you can keep yourself dry. It is extremely stable, with great tracking, and even beginners can easily use it.
---
Feelfree Lure 11.5 Kayak – Great For Tracking

→ View On Amazon ←
The Feelfree company is comprised of paddlers and fishers. They're a very close-knit group of people who work and play together, which makes for a great creative environment.
Their company focuses exclusively on kayaks and gear. Their development team has over 30 years of experience designing and developing kayaks, and they redesign constantly based on feedback from customers.
They want to enhance adventure and encourage feedback, even fostering an online community of other social paddlers and instructional blogs.
They have developed a great kayak for serious fishers. The distinguishing feature of this kayak is its sonar pod. This allows you to install a fish finder and transducer without drilling any holes in your kayak.
It's also completely removable for easy transportation and storage. Standard features also include a removable, extra-wide Gravity Seat, with multiple levels and positions. The wheel-in-keel and Uni-Track system make it really easy to transport without having to lift and carry.
Pros
Sonar pod for electronics
Wheel in the keel for easy transport
Comfortable seating
Padded standing platform
Cons
Not budget friendly
Not very lightweight
Paddle not included
This kayak has a super stable hull that is 34 inches wide and a padded standing platform that allows you to cast in sitting or standing positions, in both the ocean and the lake. It comes with two-rod holders and two storage hatches. You will have to purchase your paddle separately.
---
Elkton Outdoors Sit On Top Kayak With Rudder System – Advanced Rudder System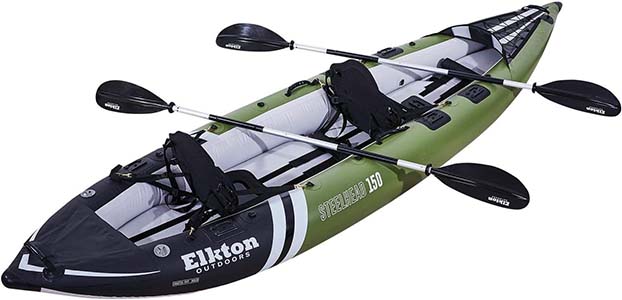 → View On Amazon ←
Elkton Outdoors is another small business founded by outdoorsmen. Their founder wanted to apply his passion for wildlife to a career and came up with a company that puts love into their products. They believe that the best quality doesn't mean the highest prices and endeavor to deliver high-performance products at affordable pricing.
This kayak is not the cheapest model available, so from a company built on quality and value, we wanted to know why this one was worth the slightly higher-than-average price.
The answer is that it has a really advanced rudder system. Their built-in rudder allows for more control while maneuvering through difficult water. The system uses two-foot pedals inside the kayak to help navigate.
This kayak also features an airtight bungee compartment for storage at the rear of your kayak and a center console with a cup holder. It includes a paddle, seat, rod holders, and bungee cords for easy storage and fishing. The dry storage compartment protects your electronics from the weather.
Pros
Rudder system
Storage space
Accessories included
The three-foot-wide hull makes this a pretty stable kayak. It can be used in any type of water. This is also able to handle more difficult weather conditions, like choppy water and high winds.
---
Hobie Mirage Pro Angler 14 – Pedal Powered Kayak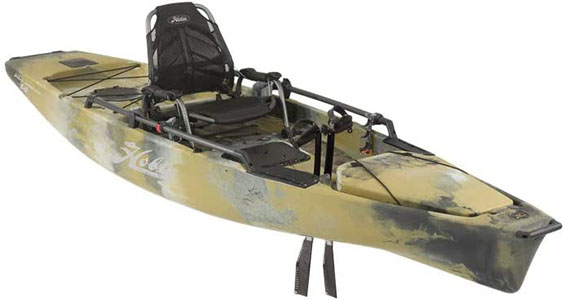 → View On Amazon ←
Hobie has been in the watercraft business for a long time. They design the best sailboats, paddleboards, kayaks, and boats for recreation and fishing. They started with high-quality surfboards that set records for being light, fast, and easy to ride. A decade later, they got into boating. They revolutionized the sailing industry, quickly rising to the top again.
Given their history of quality and innovation, and their reputation for making the very best products in their fields, we knew we needed to try out their kayak. The Pro Angler series is designed for fishing. All of the features on this kayak are designed to make it the best fishing kayak there is.
The kayak features carrying handles, three hatches for storage – in the bow, the center, and the stern – and an accessory mount. It comes with horizontal rod storage and two H-Rail mounting plates for accessories and electronics.
Pros
Hands-free pedal power
Non-skid deck
H-rail mounts
Cons
Less budget friendly
Heavy
There is a non-skid deck so that you can easily stand during sight fishing. The elevated seating allows for easy surveillance and less splashing, and the 14-foot platform makes it nice and stable. The Mirage Drive with Glide Technology allows for efficient propulsion and a hands-free ride experience, leaving you open to fishing.
---
Ocean Kayak Prowler 13 – Tons of Storage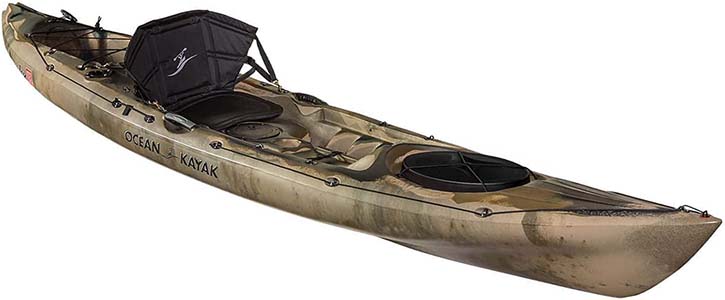 → View On Amazon ←
The Ocean Kayak started out as a surfboard. The company's founder carved a spot for his scuba gear and a spot to sit in and thus Ocean Kayak began.
More and more people who saw his kayaks were curious about where to get one, so he began producing more.
Eventually, he discovered rotational molding (Rotomolding) and learned how to mass-produce this new type of kayak.
Their kayaks don't look like traditional kayaks, but they offer a lot of advantages. For inexperienced kayakers, these are much easier to get in and out of and don't require you to learn how to roll yourself back if you flip. This eliminates the fear of being trapped inside a capsized kayak.
This kayak features an adjustable comfort seat for all-day paddling expeditions, no matter what your body type may be. It's got an easy-to-open Click Seat front storage hatch for easy-to-access internal storage. The hatch allows for bow-to-stern storage space and easily fits several rods. The model also features coolers, crates, and tackle boxes to easily store drinks, snacks, bait wells, and even SCUBA tanks.
Pros
Tons of storage capacity
Comfortable seating
Two cup holders
Lifetime warranty on hull
Cons
The nontraditional build takes some getting used to
The kayak includes two cup holders and two paddle keeps. It's only 56 pounds and can handle up to 325 pounds of weight. This makes it stable and fast. The hull can handle calm or rough waters and comes with a lifetime warranty.
---
Sun Dolphin Excursion 10 Sit-In Kayak – Best Customer Service

→ View On Amazon ←
Sun Dolphin strives to combine innovation with affordability while still maintaining unparalleled customer service. They want their customers to be lifelong members of the Sun Dolphin family and consider it their job to ensure your happiness. Based on this track record, we had to give them a try.
This kayak features a dry storage compartment with shock cord deck rigging. It has adjustable foot braces and a water bottle holder. The model even comes with protective thigh pads! It features two flush-mount rod holders and one swivel rod holder.
Pros
Lightweight
Extremely budget friendly
Protective thigh pads
Cons
Basic model with very few frills
Not built for oceans
This kayak is great for lakes and rivers. It's lightweight and easy to carry but still offers maximum stability. It was built for fishing trips in calmer waters but can take a few ripples on calmer rivers.
---
Intex Challenger Kayak – The Inflatable Fishing Kayak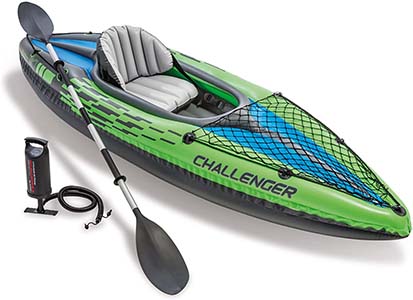 → View On Amazon ←
Intex is the authority when it comes to durable inflatable products. They have been making high-quality air beds and pools for a long time. They have committed to a reduced carbon footprint in business and in the products they sell.
And they test all of their products before declaring them finished to make sure that they meet safety standards while also offering quality and value.
This is why we decided to give their kayak a chance, even though it was inflatable.
This inflatable kayak is a sit-in kayak built for comfort and affordability. Because it is inflatable, it is also extremely friendly to budgets, and it actually costs less to purchase, on average, than the cost of renting a kayak for a day fishing expedition.
Despite being inflatable, it is still packed with great features. The maximum weight capacity is on the lower end, at 220 pounds, but it also only weighs 27 pounds, so the carrying trade-off makes it worthwhile for a lot of people. It comes with an 84-inch aluminum oar, a repair patch in case of tears, and a manual hand pump that takes only three minutes or so to inflate. The bright color makes it safe and visible in case of emergencies.
Pros
Super lightweight
Extremely portable
Extremely budget friendly
Cons
Not suited for rocky water where the bottom drags
Flimsy paddle
Less stable
This kayak has a comfortable cockpit, with a backrest included in the seat and inflatable I-beam floors for stability. It has a removable rudder on the bottom that will hit the bottom of the water before the material of the boat will when in shallow or rocky areas. There is also a lot of cargo space, including mesh nets outside the top of the boat. These are fantastic options for short-day trips.
---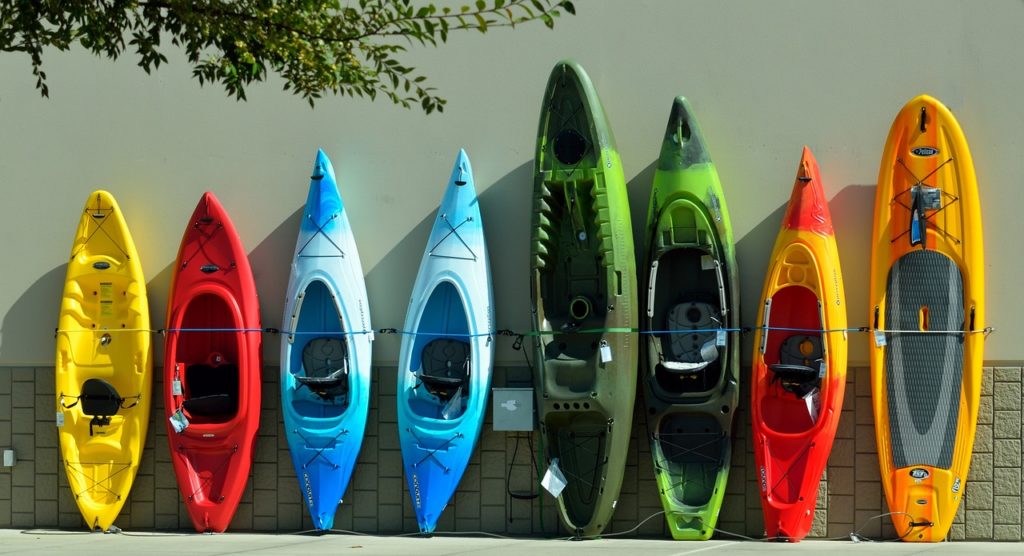 Best Fishing Kayaks Buying Guide
Now that we've listed some of our top-rated fishing kayaks, it's time for you to make a decision. We want you to feel confident that you've made an informed decision. Features are great, but you still don't know what all of the jargon means! We are here to help.
This buyer's guide will break down the different types of kayaks and some of their key features. We will talk about what they mean and what to look for so that even if you don't choose one of the kayaks on our list, you can feel confident that your decision was fully informed.
Types of Kayaks
There are two basic types of kayaks. All the different makes and models have features that follow these. The type of kayak is determined by the seating. The two basic types of kayaks are sit-in kayaks (SIK or SINKs) and sit-on-top kayaks (SOKs).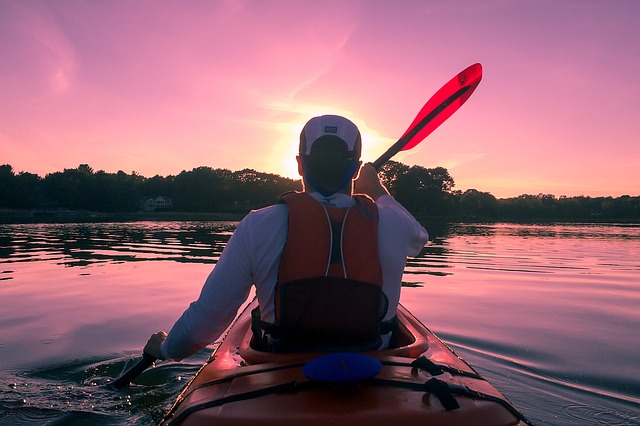 Sit-in Kayaks
Sit-in kayaks mean that the paddler is sitting inside the kayak. While your torso and head are still above the kayak, your legs and lower back are inside the boat.
One of the main advantages of this style is that you are drier throughout your experience. The spray skirts on these designs will keep you safe from the paddles splashing you and the water lapping against the kayak. It will also provide you with a warmer ride. Sitting lower shelters you from heavy winds.
One of the disadvantages is that if your kayak flips, you're soaked. The entire boat fills with water and it becomes much heavier, and therefore, harder to roll back into an upright position.
These kayaks are ideal for use in moving waters and situations where a lightweight boat is key.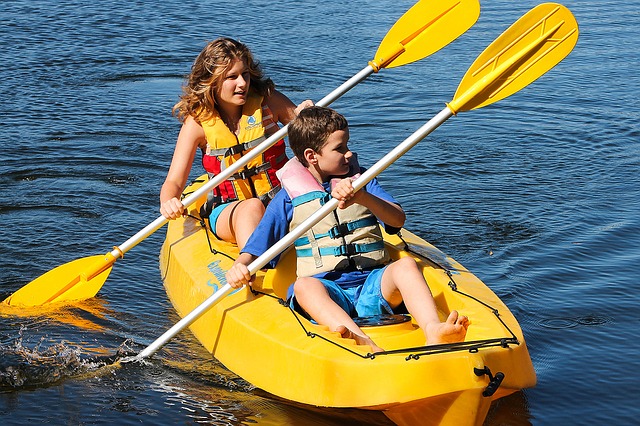 Sit-on-top Kayaks
Sit-on-top kayaks mean that your seat is elevated above the water line and the kayak. You are not enclosed. These tend to be the most popular fishing kayaks.
While these are slower, and you will get wetter in them, they are also more stable. You have a lot more freedom of movement in these models. They're easy to get in and out of, too. If they roll on you, they are much easier to flip right side up, because they don't fill up with water. They're great options when the weather is sunny and warm.
These kayaks are more multi-functional than their sit-in counterparts. While sit-in kayaks are capable of being used for fishing, they are designed more for rowing than fishing. Sit-on-top kayaks are the best fishing kayaks because they are designed to be used for a variety of different things.
These kayaks are wider than their counterparts, which adds stability. This is especially helpful when you want to stand up and fish, or if you want to fly cast. The stability also makes it easier to lean over pretty far and reach for a drink in the cooler without tipping the whole boat over. The open top allows for easy entry and exit when wading spots become available for fishing.
The one disadvantage to the width is that you will be much slower in these than in sit-in kayaks. While fishing, this is rarely anything to worry about. Fishing is a game of patience and relaxation, not a race.
These kayaks are the best fishing kayaks for safety. They are preferable for saltwater fishing and allow for more movement and stability when reeling in fish.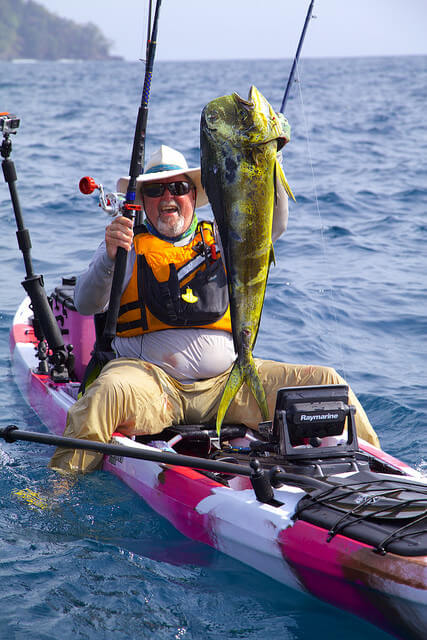 Fishing Kayaks
Both sit-in and sit-on-top kayaks can be fishing kayaks. The features that make the best fishing kayaks are accessories like rod holders, spaces for cookers, and built-in tackle boxes. Some are hands-free, and some have mounts for GPS and fish finders. Several of them are sturdy enough to stand in while casting lines.
Paddle Vs. Pedal
Propulsion is how your kayak moves through the water. Most kayaks are going to be propelled through paddling. Some of the higher-end kayaks involve pedal power instead. These use your legs to propel the kayak through the water instead of your arms, which makes it easier to use both hands for fishing. A newer, but less popular option among fishers, is a motor-powered kayak.
Key Features:
Stability
Stability is one of the most important factors to look for in the best fishing kayaks. Whereas most rowers don't need this as much, it is critical for fishing. Kayak fishers need to be able to lean and stand without worrying that their boats will flip on them. They need to know that larger fish can carry them a little bit without the boat turning on them.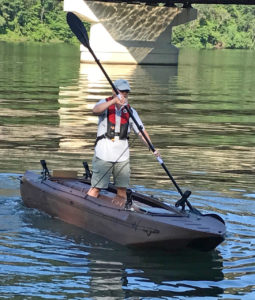 The more you plan to stand in your kayak, the more stable you need it to be. A good rule of thumb is that the wider the kayak is, the more stable it is. Design styles also contribute to stability.
Another factor with stability is the hull design. Kayaks will make U or V shapes when they are designed properly. Look at the top of your boat. The wider the top is, the less stability you have. Essentially, you want a smaller opening in your boat for better stability.
Finally, consider your own skill. If you're a beginner, you need as much stability as you can get. If you plan to do a lot of standing or bring coolers full of gear that you will be leaning to reach—stability. And if you're experienced and have incredible balance, you can sacrifice a little bit of stability to enhance other features.
Primary stability is how the kayak handles itself when it's just sitting on the water. To test this stability, sit in the kayak. If it starts wobbling and moving around while still near the dock, then it doesn't have very good primary stability. Once you steady it, paddle in a straight line. If it becomes more stable while moving, then it is a performance-driven kayak. These tend to be capable of faster speeds.
The secondary stability is how stable it feels while you lean. This is important for ocean kayaking when waves will rock it around a lot. To test this form of stability, lean while bracing on either side of the kayak. This will let you know how quickly your kayak rebalances between primary and secondary stabilities.
Storage Space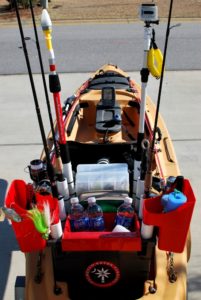 The amount of storage you will need depends on the type of trip you take. If you're an afternoon fisher who likes to catch and release your fish humanely, then you can sacrifice a lot of storage space. Make sure to bring a water bottle and drop some identification pieces in a waterproof lanyard around your neck in case of emergency, and you are good to go. You'll just need to make sure you can safely stow your rod and bait while you paddle to your fishing spot.
If you want to catch and keep your fish, then you'll need some extra space for an ice chest to keep your fish fresh while you're out on the water and driving home. You may also want some extra space for the type of gear needed for catching and keeping fish that you don't intend to release.
If you plan to spend more time on the water and plan to practice wading fishing or fishing with nets as well as lines and poles, then you will want to make sure your storage space includes room for all your equipment as well as snacks, enough water to stay hydrated over the course of a long day, and sunscreen to be reapplied a few times.
Higher-end boats have above-deck cords that are rigged to guard against shocks and a lot of anchor points for your tackle and coolers. They also have some sealed compartments that can keep your equipment dry even in cases where your boat rolls over in the water.
Weight
Be mindful of the maximum weight capacities of your boat when it comes to your own weight, plus the weight of your gear, and leave room for any fish you may catch. Remember, the closer a fishing kayak gets to its maximum weight, the less stable it will become, and the harder it will be to paddle and operate. If you want to take a weekend trip, we recommend boats with high maximum capacity and lots of storage space.
Aside from this, it is also important to consider how much weight you can carry. Remember that you will need to carry your kayak to its launch site, so you need to be sure that you can carry your gear and kayak as far as necessary, or arrange for a cart to get down to the water and back to the car. The kayak will also very likely be mounted to your car's roof with a sports rack. Make sure that your car can handle the kayak's weight without issue.
Speed Vs. Turning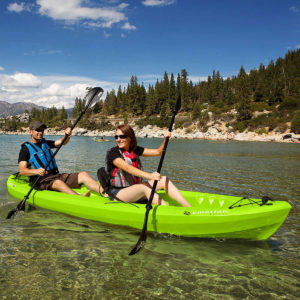 For the most part, fishing expeditions don't need to worry about speed. The usual idea behind fishing is to relax and enjoy a lazy day on a lake somewhere. Even the more adventurous river and ocean kayakers on a fishing expedition only need short bursts of speed to overcome obstacles found in faster-moving water. Fishing isn't a race. What might matter more is turning.
Since it is a factor to consider, I will briefly touch on this decision. Longer kayaks are better at covering distance quickly. Shorter kayaks are much easier to maneuver in water that requires a lot of turning.
The rounder the keel, the easier it will be to turn the kayak. Just remember that this is a secondary factor in decision-making because if your keel becomes too round, the kayak will be better suited to whitewater rapids and river expeditions than fishing.
Portability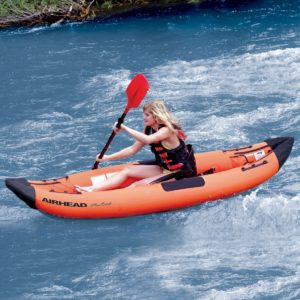 It can be difficult to transport kayaks to and from the water when you don't live nearby. This is especially true because, unlike boats, kayaks can't be docked the same way full boats can. Because of this, portability is a feature that a lot of buyers look into when purchasing.
One of the most portable types of kayaks has become the inflatable kayak. These can be inflated in mere minutes. We recommend them for use only in calm waters, though. They're great for lake fishing but not for crashing against rapids and rocks. These are sturdier than we expected and very inexpensive compared to their solid counterparts.
While we have included one of these kayaks on our review list, it is still important to note that only one of them made the list. A lot of the inflatable options are lower-end for a reason and do not meet our rigorous safety standards. One guide we trust reviewed some inflatable kayaks if these are more in line with your storage and carrying capabilities.
Conclusion
We love these kayaks, and we hope you will agree that they are the best fishing kayaks on the market. We covered them in detail to educate you on the factors that determine which kayak is right for your needs. And we are confident that one of the kayaks on the list will be your perfect fishing kayak!
One of the most important things to do while making purchasing decisions is to take these kayaks out for a spin. Find out which docks and shops offer test runs, and do it.
Each kayak has a different feel, and only paddling in them will help you find out which one fits your needs in terms of stability, comfort, and space. But we highly recommend you buy Wilderness Systems ATAK 120, Old Town Sportsman PDL 106, and Perception Pescador 10.